Henna Workshops
Note: If you have a voucher for our Basic Henna Class, please click "register" for the class you would like to attend, add it to your cart. At check out use coupon code "voucher" to register for the class and enter your voucher information in comments back. You must present your purchased voucher at the time of class. Once you register for the class, your voucher will be considered redeemed. If you have any difficulty in signing up for the class, feel free to give us a call at 503-342-6859.
Schedule of Upcoming Classes
| | | | | | |
| --- | --- | --- | --- | --- | --- |
| Class | Date | Time | Location | Price | |
| Basic Henna Techniques | Sunday, Sept. 11th, 2016 | 10:00am-1:00pm | Silk & Stone | $69 | Register |
| Basic Henna Techniques | Sunday, Oct. 9th, 2016 | 10:00am-1:00pm | Silk & Stone | $69 | Register |
| World Henna Patterns- Design & Techniques | By Request | | Silk & Stone | $39 | |
| Bridal Henna | By Request | | Silk & Stone | $39 | |
| Advanced Henna Techniques with Gilding & Glitter | By Request | | Silk & Stone | $69 | |
| Henna Art As a Business- 4 weeks | By Request | | Silk & Stone | $550 | |
| | | | | | |
Henna Classes
The art of henna is a natural and one of the purest forms of body decoration. It has been passed down from generations and had long been a secretive art form in which its recipes, techniques, and resources were kept from the public. Education in the henna art field has been increasing since the 90's and as more people are exposed to this type of creativity, more and more people are interested in learning to do it themselves.
Silk & Stone offers fun and affordable henna classes in which the secrets and proper techniques of this art form are revealed through basic and advanced henna courses. Our henna classes include all resources and related materials. They are very in-depth, hands on classes with limited seating to give each individual one-on-one attention.
Basic Henna Class
This fun, yet intense 4-hour henna art class is the perfect class for those wanting to learn this beautiful ancient art form that has been practiced for centuries! This class goes through in-depth training to help you learn the proper techniques that can take months or even years to acquire. It teaches you all you need to know to get started on this exciting journey!
Great for beginners. No artistic experience necessary.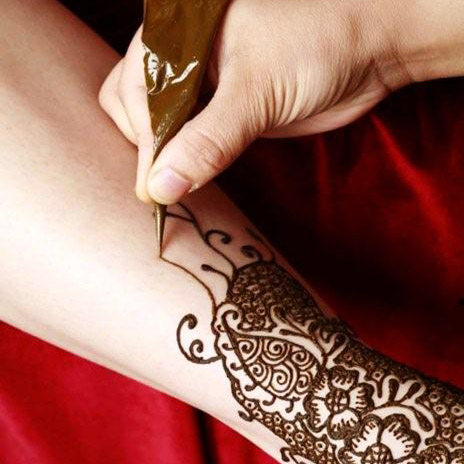 This course covers:
History of henna, traditions
Description & origin
Uses & benefits
Determining qualities of henna
Ingredients for a dark stain
Techniques and tips of making a perfect paste
application tools
Design elements & techniques
Using transfers
Positioning
Aftercare & more!
Henna Art as a Business
An intensive 18-hour course includes training on all aspects of henna and becoming a professional henna artist.
This course includes:
Revisiting basic ideas and techniques
Fine tuning henna skills
Perfecting the paste
Advanced design elements
Advanced techniques
Bridal henna designs & techniques
Prenatal henna designs & techniques
Gilding, glitter and gems
Other specialized henna techniques including heanneing objects
Business Essentials: startup & setups
Forms & contracts
Marketing your business
Researching and booking events/trade shows/markets
Business resources
Certification
Everything else you need to learn to start your own henna business!
The cost of this class can easily be made back through your first few bookings!
Class includes a Professional's Artist Kit, Artist Manual & all other materials.
Pre-requisite: Basic Henna Class
This class is located at the Silk & Stone Studio by request only- $550.00