Our Team
Kaniz F. Shah
Certified Henna Artist, Certified Esthetician & Founder of Silk & Stone
Kaniz graduated from the Art Institute of Portland with a bachelor's in Apparel Design in 1997. While at The Art Institute, she Interned for Adidas America in their Apparel Department as an assistant apparel designer (designing men and children's clothing) where she was offered the job that gave her the most valuable experience of her life! Through working for Adidas she learned how to design on the computer and learned the tricks and trades of running a business, developing products, merchandising and visual display.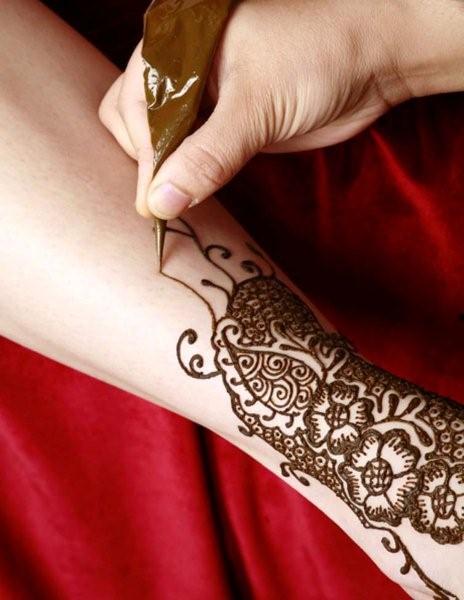 Her background with the Pakistani culture exposed her to henna body decorations which she has been doing ever since a teenager. She started out painting family and friends and developed a business in 1999 (during the years of working at Adidas) doing the art of henna at the Portland Saturday Market. Her passion for henna art has gained her great knowledge and expertise in this form of art using a variety of mediums and techniques. Before developing a business, Kaniz began her search to find an artist to teach her the art form. Disappointedly, she found that no one was willing to teach this art or give away their secrets. Because the art of henna was rapidly becoming popular in the West, people were very particular about the amount of information they would leak out to the public. It had become a secret art, highly valued with a great demand. The only way she could learn it was to teach it to herself. So she began researching and experimenting for herself and developed techniques and recipes for making high quality henna paste and designs, which she now reveals in her intense henna classes at PCC, Silk & Stone shop and at the Rose Springs Center for the Healing Arts. Kaniz loves henna and believes in passing out knowledge and a piece of her culture to others so that they may benefit from it. She often volunteers in community events to promote this safe and natural form of body decoration as well as expose people to it's cultural background.
Kaniz now designs and creates majority of the products in her business at Silk & Stone, Inc. which includes top of the line do-it-yourself body art products, henna and herbal hair care & colors and skincare products.
Kaniz is also a certified Esthetician and a very experienced threader (for facial threading & eyebrow designing). She has learned the art from close family members and had been doing it for over 10 years. She has an eye for detail and creates just the right eyebrow shapes that best suit your look. She is also experienced with sugaring (a natural and ancient Persian technique for waxing), traditional facials, and specialized bridal work including Indian/Pakistani/Middle Eastern bridal makeup and setting for the sarees & lenghas.
Kaniz has travelled extensively to many states and countries but Portland is still her favorite! She loves swimming, hiking and lively/crowded places.
Kaniz is a certified henna artist through ICNHA (International Certification for Natural Henna Arts) under her former name Sanya Khan.
Celine Yip- Henna Artist
Celine began her work with Silk & Stone, Inc. after taking one of our Henna Classes taught at the Portland Community College. She persistently met with Kaniz to show her work and began her training as a henna artist in early 2010. Her backgroud in drawing and love & dedication for the art has helped her significantly improve speed and persistency in a matter of a few months.
Claire Dunbar- Freelance Henna Artist
Claire is a graduate of the St. Mary's Academy and is now persuing a degree at the Washington State University. She Has been doing henna since 2007 and works at Silk & Stone occasionally as a freelance henna artist.
Syed Shah- President & Co-Founder of Silk & Stone
Anna Raya Daberkian - Certified Esthetician
I'm Anna I am from northern California I moved to Portland Oregon this year. Started at Silk and Stone and immediately felt like family and I hope all of our clients feel the same way when they walk in the door. I have been working in the beauty industry since I was fifteen years old and knew I had found my passion, I love what I do and I do it as well as I possibly can. I enjoy working on new and interesting people everyday and getting to know my clients well because they are not just my clients they are friends and people I love to connect with. I specialize in Threading, Makeup, Facials, Waxing and of course making people feel beautiful and Happy! My goals in my job are to always keep learning and getting better at whatever I'm doing, keeping up to date with new techniques and products and to keep my clients coming back for more! In my spare time I love doing yoga, traveling, seeing music, and painting.
Jennifer Oechsner- Certified Yoga Instructor
My love of yoga began as a practice to complement my martial arts training. Bringing yoga my to my life added a missing element to my physical fitness and to my life path, added yin to my yang. As my practice deepened I came to realize that becoming a yoga teacher was the next step in my life that I had been searching for. In 2010, I traveled to India to complete my first teacher training course. Having the opportunity to completely immerse myself in the spiritual and physical yoga teachings was a priceless experience. I came to see how yoga can assist anyone of any age, physical ability, or circumstance. Yoga can help everyone heal, strengthen, and find peace. In my classes I enjoy challenging my students. Sometimes that challenge lies in learning a new pose, but sometimes it lies in finding the ability to remain still, allowing for time to rest and recuperate. In each yoga class I lead, there is a strong focus on alignment and safety. I encourage each student to practice to their individual level, and guide them appropriately to find it. In addition to teaching yoga, I am a certified personal trainer, 1st Degree Black Belt in Taekwondo, and am currently studying to become a nutritionist.