Posted by Kaniz Shah on 5th Aug 2019
LOCWOM 501c3 Nonprofit Organization is raising funds to help flood victims.
LWH and the people of Nepal must once again ask for your help and generosity.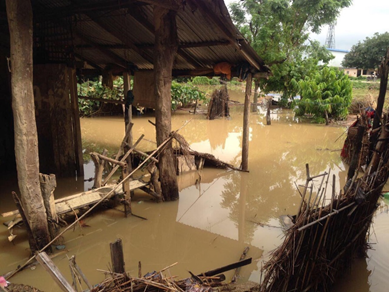 In the Terai region of Nepal, and only about 10km away from LWH's Terai center, we have once again experienced flash floods and landslides triggered by the monsoon rains.
This is an area that is still recovering from the floods of 2017 that left close to one million people recovering from the impact of the flood waters.
As I write this on the 7/14/2019 the human impact, measured by the number of people who have died and those missing, is at 48 confirmed dead and 37 missing. Sadly, experience has taught us that we can expect these numbers to rise with every new report and we listen with heavy hearts.
When we first heard news of the flooding that had happened, we anticipated much damage to a single village but with the oncoming reports, we now realize that the area of effect is far more widespread.
The villages that desperately need our help are: Fatapur, Sedepur, and Karay. These three villages are all situated close to River Youg, which has broken through its banks.
98,280 people have already been told to relocate away from the flood waters. Many of these people lived in the traditional mud houses, those that have been destroyed by the flooding; leaving them without food, shelter, or clothing, and nowhere to go. These families will be spending the first of many nights sleeping under tarpaulins or in makeshift tents, a desperate attempt to find shelter from the harsh elements.
People in these regions already find it difficult or even impossible to find a source of clean drinking water. The risk of waterborne diseases (including Cholera, typhoid and dysentery) grow by the hour.
Nepal's economic instability means the infrastructure with regards to disaster recovery or medical intervention does not exist.
Terai is a province that relies heavily on agriculture, not only as a way of income, but for everyday life. Due to the heavy flooding, all farmland is now underwater, making it impossible for livelihoods to continue or for parents to feed their children.
Most of the girls and women who LWH help, come from the Terai region, and will all likely know someone who these floods have affected. Many are desperately waiting to hear that their own families are safe.
At LWH we cannot concentrate solely on the headlines, however, because this disaster runs far deeper than that. We know only too well that when the flood waters subside, that is when your help is most needed.
LWH needs your help with the impact this tragedy has had on livelihoods, food supplies and nutrition, housing, water and sanitation infrastructure and agricultural production.
Sadly, bitter experience has taught us that many thousands of people, a large majority of whom are women and children, will suffer greatly. Food assistance as a priority, as acute malnutrition is a real and genuine fear for these people. The effects of these floods can very likely cause people to die as a result.
Our immediate aim, with your kind assistance and generosity, is to look to provide for 105 families. 33 from Fatipur, 60 from Karay and 12 from Sedepur for one month. The average extended family will have around 20 members. We need to ensure they have the food, clean water, and a way to get through this hardship.
As I am sure you can imagine providing for up to 2100 people for a month, especially in the current circumstances, can be a very costly endeavor.
A breakdown of our anticipated costs, in Nepalese Rupees, per family are:
01 - Rice 30kg – 2,500
02 - Masur dal 5kg - 750
03 - Carpet - 2,800
04 - 1x Thick blanket - 1,800
05 - 1x Thin blanket - 1,200
06 - 2x Paracetamol - 40
07 - 1x Bar Dettol Soap- 150
08 - 6x Washing cloths - 230
09 - 6x Washing soap - 230
10 - 3x Sanitary pads - 3,000
11 - 3x Water purification liquid - 200
12 - 2x Liters cooking oil - 650
13 - 2kg Salt - 80
14 - 5kg Beaten rice - 950
15 - 2kg Masala spices - 1200
Transportation charges and managing costs are 2,200 rupees. We need to manage the gifting process to ensure it gets to those families most in need of our help.
So, at the moment we anticipate a cost of 18,000 rupees per family. If we can reach out and help all the 105 families, we would like to, then this is a cost of 1,890,000 rupees or approximately $17,500 U.S. Dollars.
If you feel you can help LWH in their desperate attempt to save the lives of people affected by this natural disaster, then please do. Any and all donations will be so very gratefully received and we promise to keep you fully informed about the families we are helping, along with how your generous donation has helped them recover from the devastation of these floods.